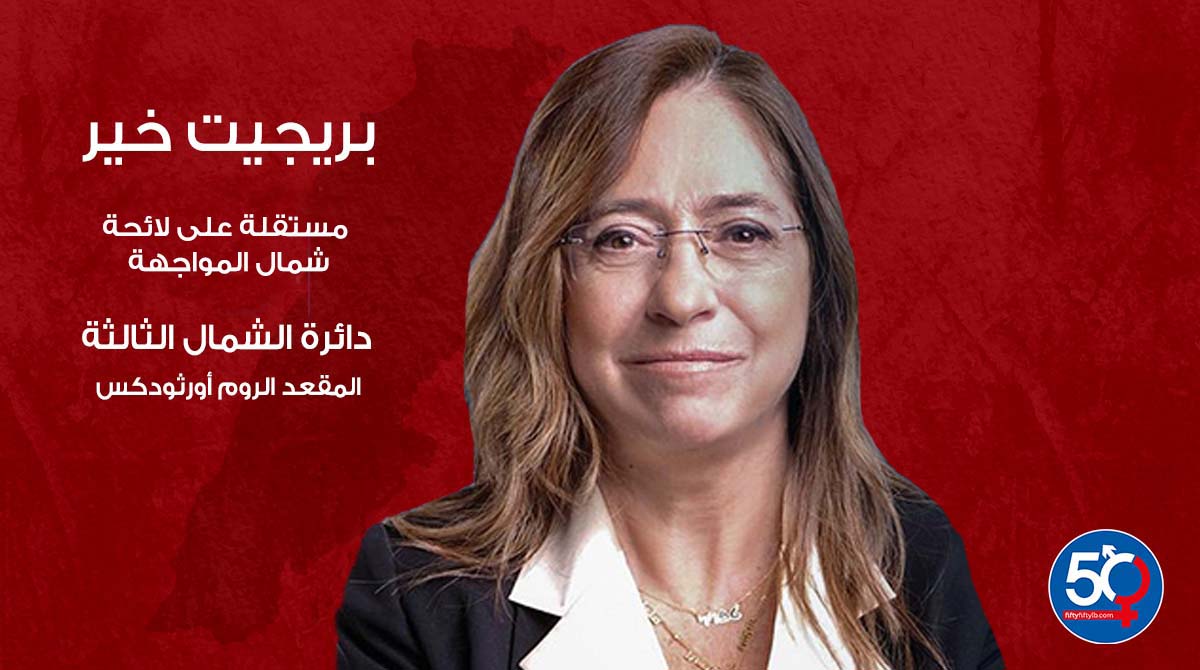 Personal information (Title & Position):
CEO and Cofounder gigthree
District:
North Leb 3 (Zgharta, Batroun, Becharreh, Koura)
Political Sector:
Parliament
Electoral List:
THE NORTH OF CONFRONTATION
Main Electoral Topics:
Gender issues (equality in nationality rights - to children and spouses), mandatory civil marriage law and a unified personal status law with respect to marriage divorce child guardianship and custody-including inheritance property ownership, financial rights of mothers to open bank accounts in the name of their children to be under their sole control. Also, decentralization is a key issue for more equitable development - especially in rural areas and traditionally neglected regions.

Area(s) of Expertise:
Development, public policy, humanitarian aid, diplomacy, fundraising, negotiations, high level advisories, and entrepreneurship

Education:
MPH (Masters of Public Health) and BS (Nutrition and Dietetics)
Bio:
A former UN official and diplomat, a member of the United Nations Senior Women Talent Group, a member of the global roster of United Nations Resident Coordinators, and a humanitarian, development, and social entrepreneurship expert.
Brigitte has over 25 years of work experience with the UN and NGOs, as well as a series of ESG (Environment, Social and Governance) advisory roles for governments, Ultra High Net Worth Individuals, and the private sector.

Her leadership roles span Head of Office and UNHCR's director for the Regional Hub for external relations the GCC based in Abu Dhabi, Director for the Middle East of Save the Children's Humanitarian Leadership Academy, several UN assignments around the world, and Advisor on Foreign Aid to the UAE Ministry of Foreign Affairs. She is now Co-founder and CEO of a tech-enabled startup for executive and professional talent on demand concentrating on livelihood creation as well as gender equality through the work of her company - gigthree - based in Hub 71 in Abu Dhabi.

Brigitte sits on governing and advisory boards including the Sergio Vieira de Mello Foundation in Geneva and served for 9 years as a member of the board for DIHAD in Dubai.

Brigitte has worked with NGOs and the UN in Lebanon and has had successes in local project execution as part of a UNDP national programme she led that delivered environmental and developmental projects through working with local authorities, civil society as well as the private sector in different communities around the country. As director of the Humanitarian Leadership Academy she negotiated and signed an agreement with AUB in 2016 to involve Lebanese experts in the work of the Academy and Save the Children. As UNHCR head of office she advised the Lebanese ministry of social affairs on refugee policy and interaction with the international community with regards to refugee management according to relevant international laws.

The projects she initiated were sustainable and a few are still functioning - mainly concentrating on solid waste management and environmental awareness for schools in the country. She plans to put her experience in developmental policies and localization of projects to work in favor of Koura and its municipalities. With a proven experience in conceptualizing and implementing community-based development programs in Lebanon from 1993 to 1998, in Iraq and a number of African countries from 2003 to 2009, Brigitte aims at employing her experience in local development, public policies, and fundraising to effect community stabilization programs in Koura. Linking the active diaspora through transfer of knowledge programmes, investment in local projects in renewable energy, tech training, innovative agribusinesses, as well as creating remote and on site jobs that will boost the area's economic revival.

That's on the development front, while at parliament, Brigitte will work on ensuring that the voice of her constituents is heard particularly when it comes to Lebanon's role within the wider Arab and international community, stressing on the role that Koura academics, doctors and diplomats play (past and present) in forging ties of unity with the Arab world and the West at large. Stressing the sovereignty and independence of the Lebanese state decisions, and the application of international resolutions that were issued to serve Lebanese interests such as UNSCR 1559, 1680, and 1701.


Media/ videos/ interviews:
video:
https://youtu.be/K-BdS2VQFwY