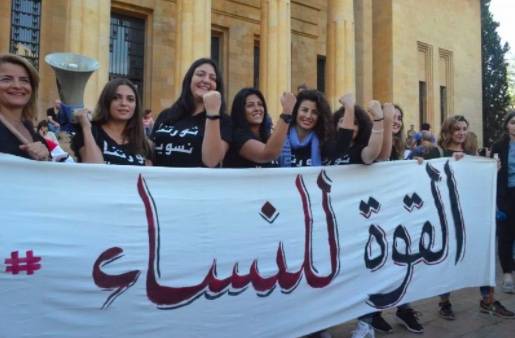 BEIRUT — Fiftyfifty, an organization that lobbies for gender parity in all political arenas and elected councils, is in the process of discussing a gender quota law proposal with Lebanese political parties and legislators with a view to pushing for such a law's adoption in Parliament.
An initial version of the proposal was voted down in a joint parliamentary committee meeting in October 2021. Berri had then placed a revised version of it on the agenda of a full Parliament meeting but no agreement was reached and the amendment was sent back to committee for further study — a perceived death sentence for the proposed legislation.
Fiftyfifty held a national conference Monday to discuss the gender quota law proposal with representatives of parliamentary blocs, independent legislators, various states' ambassadors to Lebanon, legal experts and international community organizations.
Fiftyfifty's head, Joelle Abou Farhat, told L'Orient Today that her organization is going to have small workshops with each political party in Lebanon, namely with the people responsible for working on elections within each party, followed by a meeting with each party's leader to test the waters on what kind of quota the party would prefer.
Abou Farhat added that, with the support of MP Inaya Ezzeddine (Amal/Sour), Fiftyfifty is going to push for the formation of a special commission within the Parliament that would closely follow up on and continue her group's lobbying for the adoption of the gender quota law.
The gender quota law proposal calls for reserving 26 parliamentary seats for women, divided equally between Muslims and Christians, coupled with ensuring each gender makes up at least 40 percent on each electoral list.
Abou Farhat noted that "the law [Fiftyfifty] is proposing is very fair for all components of our society," adding that, for example, "it is fair for religions as the 26 reserved seats for women are divided equally between the Muslims and the Christians — each gets 13 seats."
"Some might say we should abolish confessions," Abou Farhat said, arguing that her organization "is trying to avoid [employing the confessional system] but in order to implement any gender quotas we need to consider religions because the law is confessional."
Fiftyfifty registered the initial stance of various political parties and MPs who attended Monday's conference on the gender quota law. Several parties and parliamentary blocs were in favor of the law, including the Forces of Change MPs; the Kataeb party, represented by Elias Hankash; the Progressive Socialist party; the Development and Liberation Bloc; and the Azm bloc.
Forces of Change MPs, represented by Najat Aoun Saliba and Waddah Sadek, said that they support the law but criticized the confessional electoral system.
Others supported the law but with conditions. For instance, the Free Patriotic Movement, represented by MP Nada Boustani at the conference, said that the "FPM changed its mind concerning the women quota," where they now support the law as long as it is accompanied by a time limit; "the law should be abolished once equality is achieved."
Although Abou Farhat said they had confirmed their attendance in advance, MPs from the Marada party and the Lebanese Forces did not show up at the conference; however, Abou Farhat pointed out that "the head of LF's women's wing was present and said they 'are open to discuss the gender quota law although some oppose it within the political party.'"
When Hezbollah was contacted about the conference, Abou Farhat said that the party told her they would not attend. "I think that's a statement by itself," Abou Farhat told L'Orient Today.
Despite the Kataeb party claiming it supports the law, Nadim Gemayel (Kataeb/Beirut I) expressed disapproval of the law, arguing that "the proportional law and the proportional representation is wrong" and adding that he "is against any quotas." MP Camille Chamoun (linked to March 14/Baabda) is also against the law on the grounds that "the [Lebanese electoral] law does not prevent women from being candidates."
A study conducted jointly by Maharat and Madanyat, local organizations that push for equitable political participation, and presented during a panel discussion titled "Violence against women in politics" on Thursday, revealed that 80 percent of politically engaged women in Lebanon acknowledged having experienced violations of their political rights and significant obstacles to their representation in politics.
However, the study reported that only 39 percent of the cases where women's political rights were violated have been reported, noting that "this could be linked to the absence of a complaint mechanism as 60 percent of participants estimated that no means or methods were available to report the complaint."
During Thursday's panel discussion, participating opposition group MP Halimé El Kaakour told L'Orient Today that as much as there is "a need for more women in the Lebanese Parliament, it is essential for women with real values, standards, and a strong voice to take part in politics."
When L'Orient Today asked about the gender quota law proposal, she offered no direct indication of her position on it, saying only that "we should aim at having women of real presence in politics, and not just in numbers."
Saliba, who had already expressed her support for the gender quota law proposal earlier this week, meanwhile concluded her remarks to L'Orient Today during the panel discussion by saying, "We have a long way to go. Making it to the Parliament is hard as a woman, but waking up everyday to go out there and fight for change is even harder, you need a lot of power and an immeasurable amount of motivation to do it."