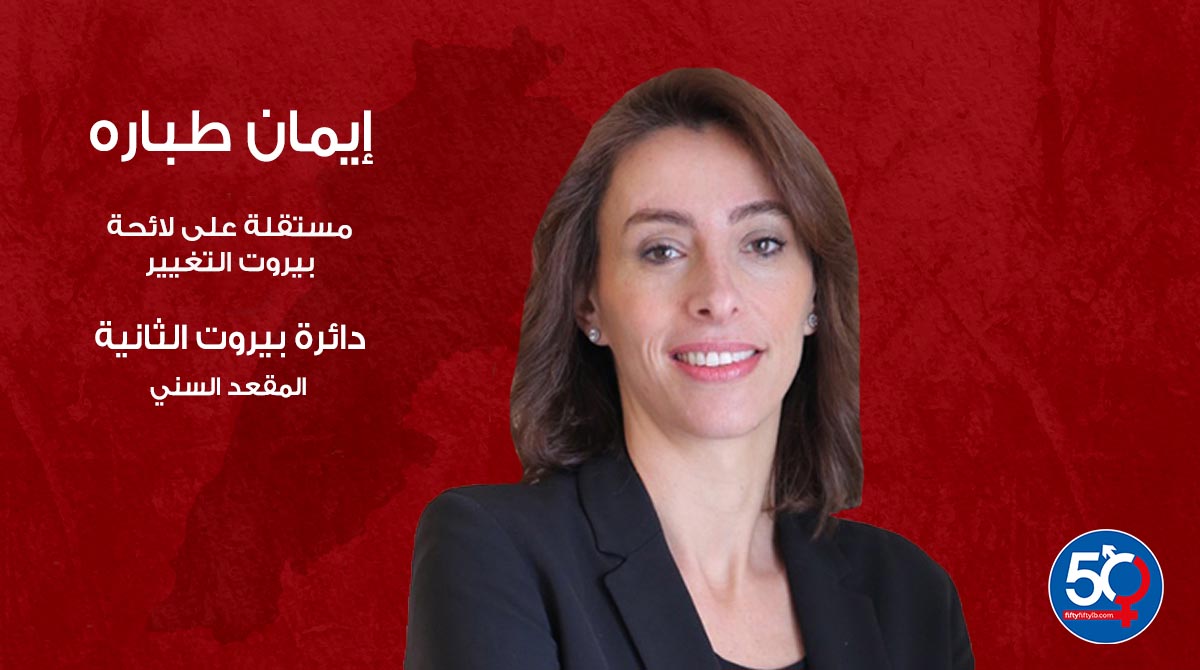 Personal information (Title & Position):
Managing Partner
Political Sector:
Parliament
Electoral List:
Beirut The Change
Main Electoral Topics:
- Sovereignty & rule of law
- Free & socially responsible economy
- Good governance & sustainable development

Area(s) of Expertise:
attorney at law & legal consultant

Education:
BA- Law License-PLD (equivalent to an e MBA)
- mediation certificate ( ongoing)
- mediaction certificate

Bio:
Iman Tabbara is an Attorney at Law and Legal Consultant since 2004. She practices between Saudi Arabia and Lebanon as a general practitioner with a focus on Civil Law, Business Law, Personal Status Law and their derivatives ebaling her to provide industry specific guidance to local and international clients.

She consults and handles personal and corporate legal processes; develops company policy and position on legal matters; researches, anticipates and guards individuals and companies against legal risks; structures, drafts and reviews reports and other legal documents; represents indivduals and companies in legal proceedings; negotiates deals; drafts and administers contracts with an extensive experience in regards to pre and post-nuptuals, franchising, agencies and license agreements. To date, she has advised private entities and concluded various agreements within a broad business spectrum, including but not limited to
Ruby Tuesdays, Hitachi Enterprises, DKNY, Dorchester Estates and De Grisogono.

Iman ensures that the international clients' existing specific business models are duly respected on a local level ensuring that the challenges owning to different economic conditions, local customs and business practices of the targeted country are met on every occasion, safeguarding the vision of the clients.
She has an extensive reach in management as well, where she managed several Law firms both in Saudi and more recently in Lebanon.
Iman has frequently appeared as a guest lecturer in several Saudi universities and colleges such as CBA (College of Business Administration) and Effat University. In 2013, she was appointed as a part time instructor in Effat University, carved the course syllabus and taught the Introduction to Business Law course till 2015.
She holds a Bachelor's of Arts degree from the American University of Beirut in 2000 with a major in Public Administration. She continued afterwards to obtain her Civil Law degree in 2004 from La Sagesse University in Beirut, Lebanon and has succefully concluded in 2020 the Program for Leadership Development at Harvard Business School (an equivalent to an executive MBA) . She is currently enrolled with the Lebanese Association for Mediation and Conciliation and is expected to receive a Professional Certificate for Mediation in March 2022.

Iman has been appointed as member of the Beirut Bar Association Disciplinary Board for 2021, the Disbarment Committee for 2022 and is also a member in the legal committee of the Women Leaders' Association, the first council in Lebanon within the Federation of Chambers of Commerce, Industry, and Agriculture.