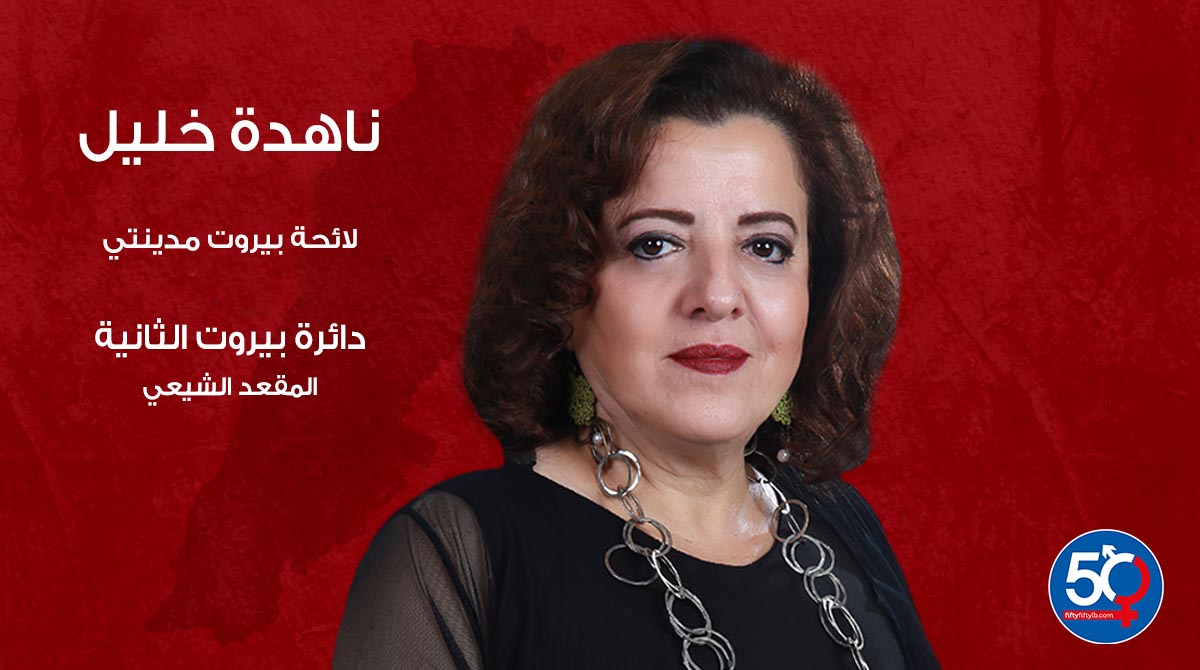 Personal information (Title & Position):
Mrs
Political Sector:
Parliament
Electoral List:
BEIRUT MADINATI
Bio:
Nahida Khalil, born in Beirut – Ain Al Mraiseh.
Engineer, syndicalist, political, social and environmental activist and a mother to one young man "Nour" and two young women "Chaden" and "Ban".

She holds a diploma of higher studies in Civil Engineering from the Lebanese University.

She is a consultant and university lecturer specialized in teaching sustainable design of outer spaces and ecosystem management.

Active member of Beirut Madinati since its inception in 2015 and currently a member of its Literature Committee;
Member of the Delegates Committee of the Engineers Union;
Member of ICOMOS, The International Council on Monuments and Sites, specialized in preserving the cultural and natural heritage;
Founding member of "The Civil Campaign to protect the Dalieh of Raouche";
Founding member of "The Lebanese Coast Consortium";
Founding member of "The Waste Management Consortium" and
Founding member of "The Naqaba Tantafid Consortium".

She participated in founding many environmental, political and syndical campaigns and consortiums and in establishing their visions, strategies, governances, structures and political programs.

She has been active in cases related to social justice, human, workers and employees rights, cultural and natural heritage preservation, cities public policies, syndical work and public rights and funds protection struggle…

After a long militant career and confrontation of the governing system and its projects that target personal interests only at the cost of public interest by all means: campaigns and pressure, raising alternative visions, appealing against decisions and changes, discussion rooms and field movements… she decided to move forward towards accessing the decision center at the parliament in order to promulgate laws and apply all that she was working on during her struggle years for change.

Her project consists of building the organizations, citizenship, accountability, social and economic justice, human rights and people defending state in order to live in a public environment that respects its history and future, the capital of a sovereign, free, recovered and prosperous Lebanon.


Media/ videos/ interviews:
video:
https://youtu.be/VoqmT0cbreI