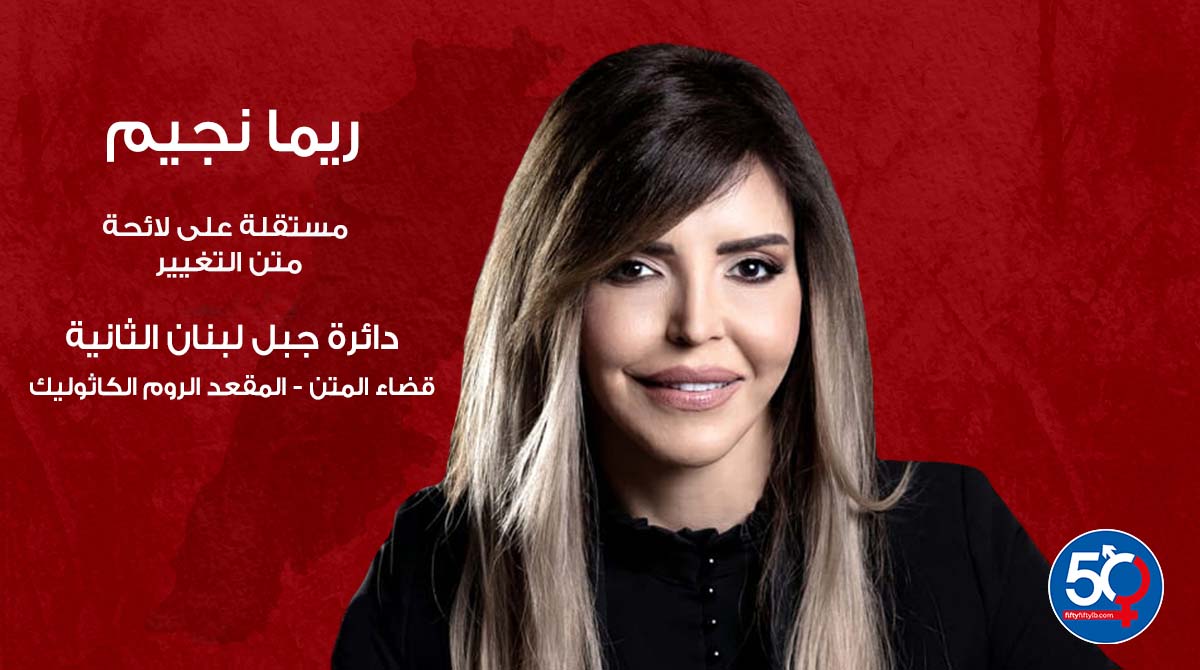 Personal information (Title & Position):
Lebanese Radio broadcaster and a TV host
District:
Mount Leb 2 (Metn)
Political Sector:
Parliament
Electoral List:
METN THE CHANGE
Area(s) of Expertise:
Lebanese Radio broadcaster and a TV host

Education:
politics and economical sciences

Bio:
Rima Njeim is a Lebanese Radio broadcaster and a TV host, who has worked in this field for more than 18 years. You can currently hear her Live on YA RIMA, which happens to be the highest rated program of its kind.

Rima is originally from Maasser el Chouf, she was born and raised in Ain el Rimmeneh due to the Lebanese civil war. Rima attended the Lebanese University and decided to major in politic and economical sciences. However, her true passion lied in Radio so she decided to pursue it. For four years, she took jobs at any radio that was hiring where she would mainly voice over

special reports.
This experience was essential to start her career and help her develop skills that would prove to be vital in the development and evolution of her career.
Rima's career reached a major turning point when she was given the opportunity to be part of the sawt el ghad team, which happened to be one of the most famous Lebanese radio stations. At sawt el ghad she was given her own show entitled ya rima this was a big shift from the voice over's and ads. The show was an instant success as more and more Lebanese listeners tuned in every Monday to listen to Rima discussing the most recent and current issue and at the same entertaining them making sure their morning starts at the right tune.

This show is also a social spiritual show, giving listeners the opportunity to unload and discuss any problems or issue that was frustrating them.
She would give them advice and encourage other listeners to comment too, working together to attain serenity.
Besides Ya Rima she launched her second radio program entitled awa2el. Awa2el differs from Ya Rima in being a one on one interview show where she interviews celebrities of the Arab world. Among the list of impressive high class celebrities who were interviewed by ya rima were Omar El Sherif, Mansour El Rahbani, Raymond Gebara, Sabah, Mageda El Roumi, Doureid Lahham.

In addition to that, Rima took part in many successful radio drama series that aired on sawt el ghad. In 2009, her hard work paid off and she was thus appointed as the programs manager in Sawt el Ghad.
Rima's huge success allowed her to lead Sawtelghad to become the number one radio show for almost 15 years.
She also received the opportunity to host many important and special events and programs on TV.

her first appearance on TV was with LBC where she presented many entertainment episodes. She was also selected to present the show Naghamat Fi Hayato where she hosted Gibran tueni.

Following her successful string of appearance on TV she collaborated with the director tony kahwagi and started her own show on LBCI

She conquered radio, television and then decided to conquer the field of journalism. She launched a monthly online magazine entitled RIMAG. This magazine covered social lifestyle beauty fashion spiritual and coaching topics with experts in all the fields. Her hardwork paid off in more ways than one. People in the industry recognized her hard work and the important role she played in society . Rima received an award for Best Radio Broadcaster from the Student Celebrity awards (2009-2010), the Media festival/ Lebanese University/ Faculty of information and

documentation(2002) and the Arab Festival of the Media (2006)
Her growing success gives her the opportunity to be a role model for her listeners and to give back to society.

She uses her voice to empower the people and support causes. She spreads awareness and motivates her listeners to care and offer a helping hand.
Her social activities extended to participating in numerous conferences in universities, schools, organizations etc where she discusses social topics , medical causes, and issues related to the media. Somme of those universities and schools include Aub, lau,

aust, usek, auce , montana school, etc.
She moved from sawt el ghad on february 2013 after leading it to become the number 1 lebanese radio statio.
In May 2014: Rima joined Aghani Aghani Radio / TV (sister company of MTV) as its managing director.

Later on she joined MTV and presented (Aghani W Zekrayaat) where she hosted icons from the lebanese Memory.
Rima also hosted an episode on MTV- Tribute to the legend Wadih El Safi.

On december 8th 2013; Rima Njeim shaped the history when she broke the the Guinness World Records . She stayed on air for more than 46 non stop hours . The marathon was aired on Aghani aghani radio and tv and was dedicated to A child who needed an urgent open heart surgery for a big amount of money. Rima succeeded in breaking the record and in collecting the whole amount (live fundraising)
She hosted special tribute episodes honoring the Lebanese Army and the icon Sabah in 2015 on MTVLebanon.
Rima Njeim came back to

Sawtelghad station in April 2016 where she is hosting Ya Rima and awa2el shows.

In 2017, she was honored by DIAFA - Distinctive International Arab Festival Awards - festival at dubai for her role in shaping the lebanese/ arab media through her morning show YaRima.